Updates

Time Table

Abstract Collection

Poster Collection


-27 November 2020: Call for participation starts. The deadline is 18:00 on 4th December 2020. Please contact the Irago 2020 organizers at the email that follows if you would like to register as a participant stating your full name and affiliation : (iragoconferenceseries@gmail.com)
-11 November 2020: Invited speakers pages updated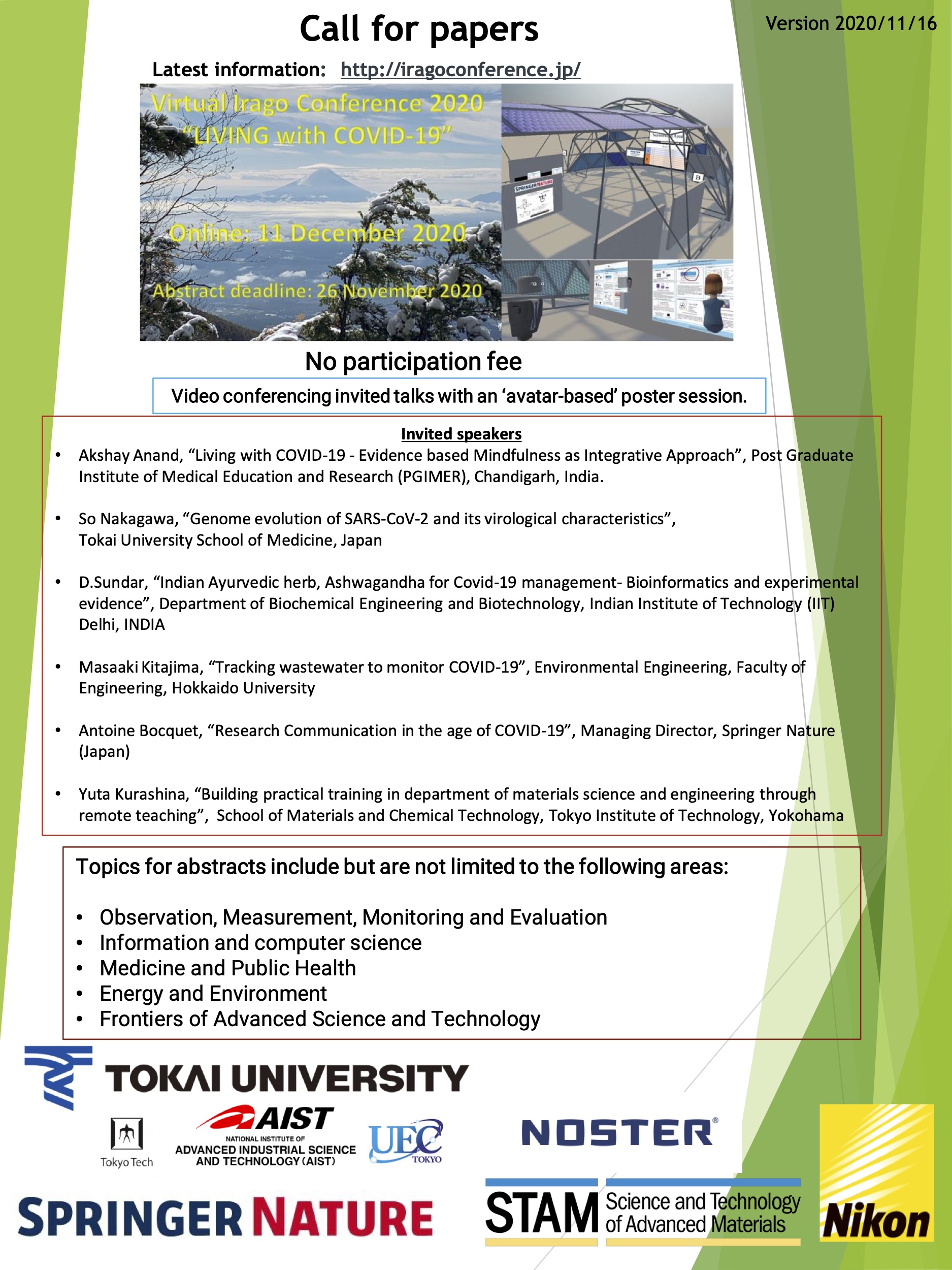 Updates
Accepting abstracts:1 to 26 November 2020
Important notices about Irago 2020
(1) This year's conference will be virtual combining invited talks by Zoom and an 'avatar-based' poster session. Furthermore, this year's conference will be free for all participants.
(2) The proceedings of Virtual Irago Conference 2020 will be a compilation of the abstracts submitted by participants. Note, there will NOT be AIP proceedings this year.
About
The world is at a major turning point. Recent changes in global economics and industrial priorities, environmental and energy policies, food production and population movements have produced formidable challenges that must be addressed for sustaining life on earth. The Irago Conference series was launched in 2011 with the objective of providing an 'interdisciplinary-platform' to enhance mutual understanding between scientists and engineers from academia and industry, policy makers, and experts from a wide spectrum of pure and applied sciences to resolve the daunting global issues facing mankind. The organizers would like to encourage graduate school students to participate and talk directly with internationally renowned academics, industrialists, and opinion leaders for a firsthand view of the major issues facing scientists and engineers of the 21st century.
Main theme of Virtual Irago Conference 2020
"LIVING with COVID-19"
Internationally renowned experts will share their experiences and insights into the challenges of "living with COVID-19".
Date: 11 December 2020
Venue: Online. The links and information for joining the conference will be sent to registered participants
Topics covered by the invited speakers at Virtual Irago Conference 2020 include:
Treatment, testing, and vaccines for COVID-19
Simulating the evolution and spread of COVID-19
Innovative approaches to teaching experimental classes to overcome limitations of on-line teleconferencing university tuition
Front line accounts by medical staff of treating COVID-19 patients in emergency settings
Trends in publishing premier research during the COVID-19 pandemic
Global survey on the effects of COVID-19 on scientific research
Social aspects of COVID-19 including careers paths
Abstracts are welcome in the areas listed below.
Observation, Measurement, Monitoring and Evaluation
Advanced observation and measurement technologies
Climate change
Astronomical and solar system observation
Materials science and materials informatics
Micro sensing systems
Measurement systems for extreme environments
Information and computer science
Artificial intelligence
Quantum computing
Big data
Machine learning
Computer graphics and 3D animation
Man – machine interface
Medicine and Healthcare
Biomimetic materials and protocols
Neuroscience
Genetics
Molecular biology
Healthcare and diagnostics
Nanosurgery
Microorganisms
Drug delivery and discovery
Life threatening diseases
Regenerative medicine
Pandemics
Innovative Technology for health/welfare
Music therapy, brain and mind healing
Energy and Environment
Environment and pollution
Biofuel
Natural energy (solar, wind, wave)
Energy conservation
Methane hydrate
Oceanography
Agriculture and plant science
Frontiers of Advanced Science and Technology
Electronic materials and devices
CMOS and silicon devices
Integrated circuits
MEMS and NEMS
Optoelectronics
Magnetic materials and related devices
Man-Machine Interface
Robotics
Piezoelectric actuators
Graphene synthesis and applications
Spintronics
Virtual Irago Conference 2020 Organizing Team
Adarsh Sandhu (UEC, Tokyo)
Tetsuo Kishimoto (UEC, Tokyo)
Rio Kita (Tokai University)
Yoshitaka Kitamoto (Tokyo Institute of Technology)
Masumi Taki (UEC, Tokyo)
Renu Wadhwa (AIST, Tsukuba)
International Advisory Committee
Cristina Blanco Andujar
University of Strasbourg, France
Mohamed Boutchich
Université Pierre and Marie Curie (UPMC), France
Daniel Chua
National University of Singapore, Singapore
Arindam Ghosh
Indian Institute of Science Bangalore, India
Joby Joseph
Indian Institute of Technology Delhi, India
Justin Llandro
University of Cambridge, UK
Shinya Maenosono
Japan Advanced Institute of Science and Technology, Japan
Ahmet Oral
Middle East Technical University, Turkey
Daniel Ortega
IMDEA Nanoscience, Madrid, Spain
Paul Southern
The Royal Institution of Great Britain, UK
Venue
Online video conferencing and avatar-based poster session
Contact
Email: <iragoconferenceseries@gmail.com>
Invited Speakers (updated regularly)
Registration: There is no registration fee for participating in this year's conference
Submission of Abstracts:
Abstract and registration start date: 1st November 2020
Deadline for Abstract Submission:26 November 2020
Submit abstracts by email to:iragoconferenceseries@gmail.com
The abstracts will be reviewed and decisions sent to corresponding authors within two days of receipt
Authors will be sent an abstract identity code by e-mail as shown in this example: "001"
Instructions for writing abstracts

Authors are requested to submit an abstract of no longer than 250 words within one A4 page including Figure/Table and References using the template file which is in MS-Word format.
A single Figure/Table and related caption should be embedded into the abstract.
A collection of accepted abstracts will be distributed to participants at the conference. Camera-ready, high quality manuscript figures are requested within a minimum of 300 dpi resolution.
Coloured artwork will NOT be reflected in the printed version.
The abstract file name format should be: <first-name_family-name of corresponding author.doc> (e.g., <taro_suzuki.doc>).
Send abstracts in microsoft word format (DOC or DOCX) through email to iragoconferenceseries@gmail.com

Please do not hesitate to contact The Irago Conference secretariat by e-mail  iragoconferenceseries@gmail.com  with any questions about the conference.
Presentation Information:
Oral Presentations
All oral presentations will be given online using video teleconferencing.
Digital avatar-based poster session
Digital images of posters will be posted onto boards in a 3D poster session auditorium. The digital poster image should comply with the following specifications: Size of 2340×1820 pixels. Contact us if you have any questions about preparing digital images of the posters. Registered participants will be allowed to enter poster rooms online in the form of avatars to meet the presenters and talk with them directly. Instructions for the operation of avatars inside the digital poster hall will be sent to registered participants directly.
Publication
In 2020, there will not be a call for manuscripts for publication in the AIP Conference Proceedings of the American Institute of Physics (AIP).
Technical Program (TBA)